The Article
AMARILLO, TX – FirstBank Southwest ("FBSW") announced Thursday morning that they donated a $3 million gift providing Amarillo College ("AC") athletics program with a "Founding Sponsor" and a prestigious name, newly named the FirstBank Southwest Center.
The highly visible FirstBank Southwest Center, which rests on the corner or Washington Street and SW 24th Avenue, is presently undergoing a massive renovation expected to be completed on or around Jan 1. In addition to AC renaming the building in FBSW's honor, the gift establishes FBSW as the Founding Sponsor, including various co-branding opportunities, of AC's newly rekindled intercollegiate athletics program.
Andy Marshall, President and Chief Executive Officer at FBSW, said it is by far the largest gift ever bestowed by the storied institution he administers.
"AC is critical not only to the community, but to the community in the future, so this means the world to us. This is not an off the cuff idea. We made a conscious decision to make the largest single investment coming from our bank in its 115-year history. … By enhancing the programs and facilities, we are going to attract better athletes, more students, great parents, potential employees that will move to the area and then attract potential employers. This is a chain of events we want to be a part of," Marshall said.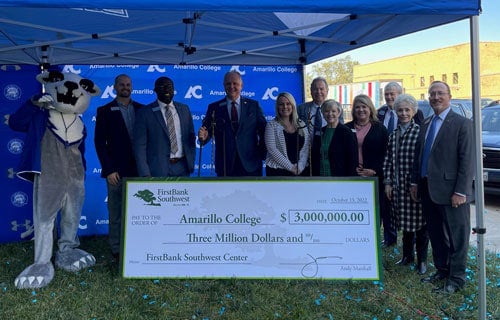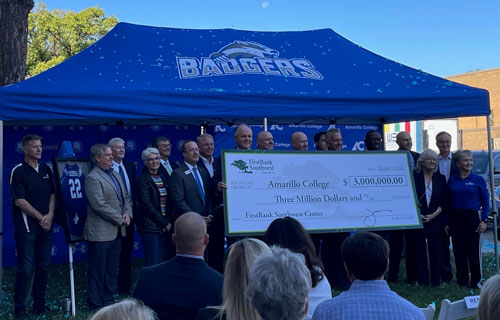 The $3 million gift will not only provide a significant boost to AC's $45 million comprehensive campaign, Badger Bold, but also represents one of the largest single philanthropic gifts ever received in AC's 93-year history.
"What I'm thrilled about is when the construction is finished, the community is going to love the FirstBank Southwest Center. It will have community space for anyone in the community to utilize. It will overlook Memorial Park and will include a world-class volleyball court for our team," said AC President Russell Lowery-Hart. "We will have the best home court of any junior college in the country, which will make us even more of a competitor."
Once the new athletic facility is open to the public, it will provide a volleyball-specific home for AC volleyball, as well as offices and workout facilities for the Badger baseball and cross-country teams. It will also serve as a premiere fitness center for students, faculty and staff, and affordable memberships will be available for the entire community.
ABOUT FIRSTBANK SOUTHWEST
FirstBank Southwest ("FBSW") was founded in 1907 and family-owned since 1934. FirstBank Southwest is a dynamic 1.4B+ regional bank that has the privilege of serving the families and businesses of the Texas Panhandle, DFW Metroplex, and Austin and San Antonio metro markets. It is the mission of FBSW to be the preferred community bank in the great state of Texas by providing focused financial services for commercial customers and retail customers. Get social with us on Facebook, Instagram, LinkedIn and Twitter. Visit us on our webpage at: www.fbsw.com.
###
FOR MORE INFORMATION CONTACT:
Rachel Smith, Marketing Director, 806.354.5245, [email protected]
All Articles