Wealth Management
Our financial advisors work with you to preserve, protect, and grow your wealth. Build your financial future with wealth management services at FirstBank Southwest.
Wealth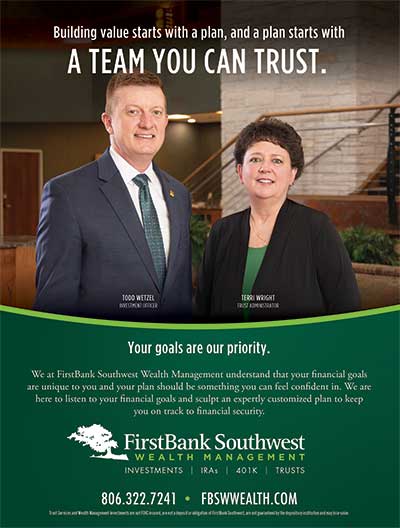 Wealth
Why You Should Start Investing Now
Learn More
Trust Services
FirstBank Southwest can act as your trustee or agent, holding title to designated assets and managing them for the benefit of you or your beneficiaries. Our trust services make sure your assets are professionally managed and meet your estate planning needs.
We help you determine your financial objectives and estate-planning needs, while taking into consideration the types of assets involved and tax implications. Our team manages a variety of assets including securities, real estate, farm and ranch properties, oil and gas interests, and wind energy interests.
Our services include:
Personal Trusts (revocable and irrevocable)
Estate/Probate Administration
Charitable Foundations and Endowments
Court Appointed Trusts
Oil and Gas Management
Farm, Ranch and Real Property Management
Wind Energy Interests
Guardianships
FirstBank Southwest is available to serve you with an experienced staff that offers personal attention to your needs.
Call us at 806.322.7241 to learn more.
Trust Services and Wealth Management Investments are not FDIC insured, are not a deposit or obligation of FirstBank Southwest, are not guaranteed by the depository institution and may lose value.