Wealth Management
Our financial advisors work with you to preserve, protect, and grow your wealth. Build your financial future with wealth management services at FirstBank Southwest.
Wealth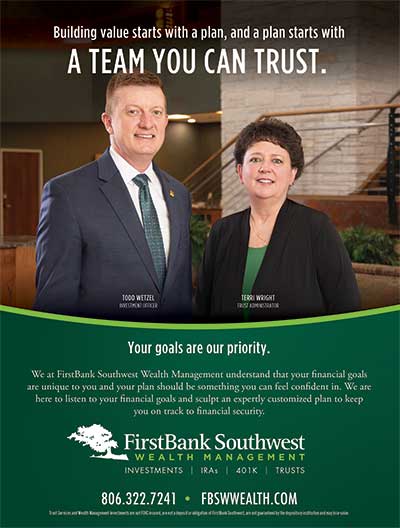 Wealth
Why You Should Start Investing Now
Learn More
Retirement Services
For the individual:
IRA Services
Those with earned income under the age of 70 ½ years may open an Individual Retirement Account. The IRA's earnings are tax-deferred for the future. Our FirstBank Southwest IRA is an open account, so additional deposits may be added to the balance. You can choose from either a fixed-rate or variable-rate IRA. Interest is compounded daily.
We also assist with IRA Transfers and 401(k) rollovers. Contact us if you need to transfer an IRA or rollover funds from your employer's 401(k) plan.
Investment Agency Accounts
Investment Agency Accounts are a great option for those looking to bring simplicity to wealth management. With these accounts, we act as your agent – processing transactions, collecting income on your investments, safekeeping assets and making disbursements in alignment with your instructions.
For the employer:
Our Wealth Management team will guide your company through every step of the retirement planning process. We can help you establish a retirement plan benefit so you can focus on the other important aspects of your business.
401(k) services
We can work with you to build an employee retirement plan to attract and retain valuable employees. We will help you keep up with regulatory requirements, compliance testing, IRS reporting and more.
Plan design and implementation
Assist in the enrollment process
Conduct on-site meetings
Ongoing education for participants
Local contact to answer your questions
By offering a retirement plan to your employees, you can help your employees save for the future and realize significant tax advantages for your company. Our team of Wealth Management experts can put the pieces together for you.
Call us at 806.322.7241 to learn more.
Trust Services and Wealth Management Investments are not FDIC insured, are not a deposit or obligation of FirstBank Southwest, are not guaranteed by the depository institution and may lose value.