The Article
PAMPA, TX – FirstBank Southwest ("FBSW") announced the construction of their new cutting-edge banking facility on the corner of 300 W. Kingsmill, Pampa, Texas 79065 last year. This month, FBSW staff and community members had the opportunity to mark their building in a special way. People gathered to "Bless the Bank" by saying prayers, writing scripture verses, their names, and inspirational quotes on floors and frames.
Kim Hill, FirstBank Southwest Pampa Branch Market President, stated, "There are many great things happening downtown and we are excited to be playing a big role in the downtown revitalization."
Pastor Dillon Hill and the group "Praying for Pampa to Prosper" both prayed. Writings included: "Faith. Family. Bank.", "May everyone who enters this Bank be prospered and blessed", "Whatever you do, work heartily, as for the Lord and not for men, knowing that from the Lord you will receive the inheritance as your reward. You are serving the Lord Christ (Colossians 3:23-24)", "Dear God, please bless all who enter", and "God is good all the time".
The new facility will have approximately 8,000 square feet, will be a full-service bank, with six drive up lanes, a 24-hour drive-up ATM, and night deposit drop. They are anticipated to be open to the public in the Summer of 2022.
While the bank's main facility and lobby remain open at its current location throughout construction of the new facility, FBSW temporarily relocated their drive-thru, 24-hour drive-up ATM, and night deposit drop to 301 N. Cuyler, Pampa, Texas 79065 across the street from the current building, on the corner of Cuyler and Francis.
"The City of Pampa is excited about FirstBank Southwest's plans to build a new banking facility at their downtown Pampa location," said Shane Stokes, Pampa City Manager. "FirstBank's longtime commitment to investing in Pampa's downtown lines up with our goal of downtown revitalization and ensures that relationship will continue long into the future."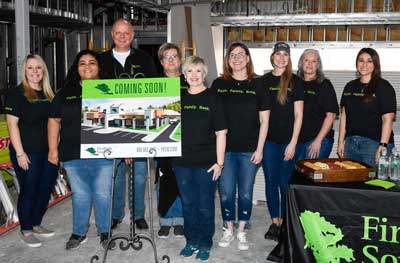 ABOUT FIRSTBANK SOUTHWEST
FirstBank Southwest ("FBSW") has nine banking center locations in Amarillo, Booker, Hereford, Pampa, and Perryton, Texas. It is the mission of FirstBank Southwest to be the preferred community bank in the great state of Texas by providing focused financial services for commercial customers and retail customers.
For more than 100 years, FirstBank Southwest has met the needs of those working and living in The Panhandle and has expanded their Loan and Deposit Production Office in Fort Worth and San Antonio, Texas. Get social with us on Facebook, Instagram, LinkedIn and Twitter. Visit us on our webpage at: www.fbsw.com.
###
FOR MORE INFORMATION
CONTACT:
Rachel Smith, Marketing Director, 806.354.5245, [email protected]
All Articles